Achieving success through digital innovation
Built on the mantra 'clients come first'
We pride ourselves in offering a wide range of IT services, leveraging the latest technology to meet the unique needs of our clients. With a team of highly skilled professionals, each with a diverse background in various IT disciplines, we are equipped to provide expert solutions that drive business success. Our commitment to excellence and in-depth understanding of the industry ensures that we deliver highly professional services that exceed expectations and help our clients achieve their business goals. Choose Comunet for a truly tailored and innovative IT experience.
Learn about what we do, and hear from our clients on why they work with us.
At Comunet, we love technology.  More than that, we love helping clients achieve success through digital innovation.
For over 25 years we have been designing and implementing IT strategies that leverage technology to achieve business objectives for small businesses through to enterprise organisations. 
With expertise across all areas of IT, we take clients on their digital transformation journey and help them achieve their business objectives. 
We partner with global best of breed technology providers. By doing this, we provide our clients the most effective and efficient solutions from the best the world has to offer.
Comunet holds Microsoft Gold accreditations for Midmarket Solutions and Application Development. We also hold Silver accreditation for Small and Midmarket Cloud Solutions. Comunet have extensive certifications across a range of Microsoft products and are an Authorised Education Reseller, with direct access to education pricing.
For organisations and businesses whose accounts teams still handle petty cash and use manual reimbursement processes. having effective systems in place is critical to reducing operational inefficiencies, resulting in positive budgetary outcomes. Comunet has designed and developed its own Expense Reimbursement System using Teams, SharePoint, Plumsail Forms and Power Automate to digitise the expense reimbursement process from start to finish.
Every day, new data breaches and threats are made public as technology and attack techniques develop at an extraordinary pace. Having a structured framework to manage your information security is crucial, and ISO 27001:2022 is a gold-level standard to manage information security risks to your organisation.
COTS solutions are best for standardised practices but for complex businesses and situations, they can often miss the mark. Custom application development can solve complex business issues others cannot.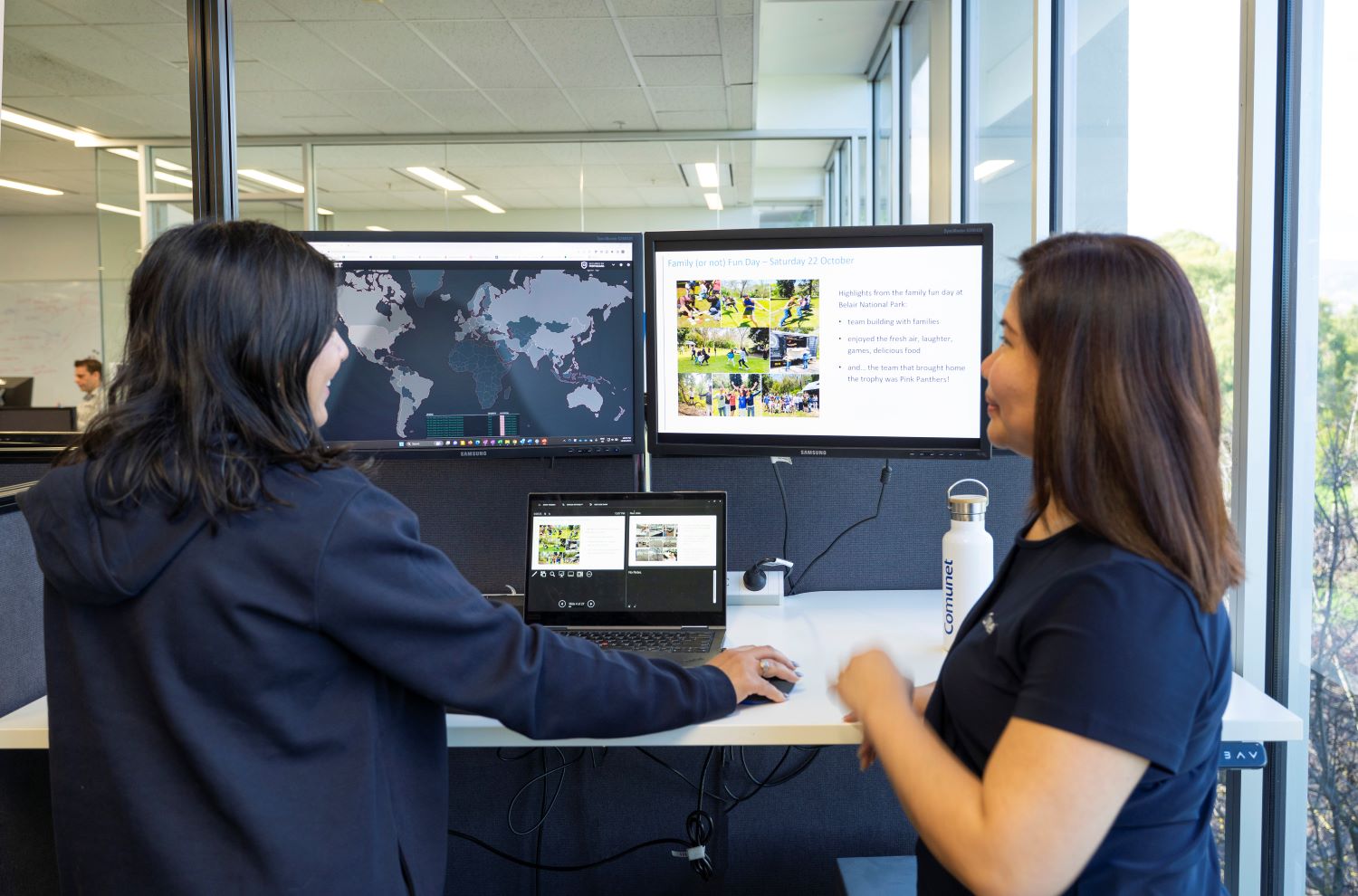 Don't just take our word for it. Hear from our clients on why they work with us.
Tim Ziersch - Novita Children's Services
Comunet have been an indispensable member of our IT support team for the past decade.
Comunet have shown time and time again that they are a vendor of high integrity, and who are willing to take the time to understand our business and go the full distance. Their specialist technical skills linked with their understanding of our business purpose have been invaluable in guiding best practice at AnglicareSA in IT infrastructure and security, and in also allowing us to build a high performance team by blending our in-house staff with Comunet's experts.
Jamie Anderson - AnglicareSA
Senior Manager Information & Technology
We have moved from a traditional PABX phone system to Comunet's Cloud Voice system. We are using majority soft phones with some desk and conference phones across our 35 user organisation. The transition was smooth, with Comunet providing training and support, and plenty or preparation before going live with the new phones. We had to work around some issues relating to porting and deadlines, which relied on a third party. However, Comunet were able to assist timely and professionally.
Ange Edwards - Thoroughbred Racing SA
IT Manager